Children of the Enaisi
a science fiction novel
by L. S. King
"This is an excellent book indeed... I look forward to reading the rest of this fine series."
- P.M. Griffin, award-winning SF author
"Children of the Enaisi has a beautiful high concept with a mysterious past of lost technology and ancient secrets. A fresh new take on Rangers that fans of classic pulp fantasy will love."
- Jon Del Arroz, award-winning SF author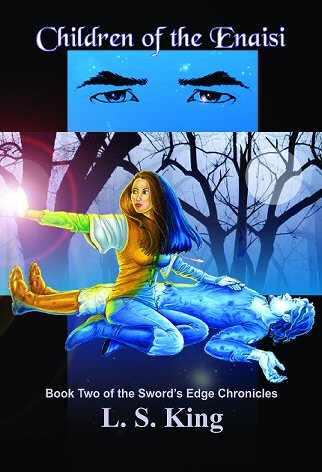 Nandhal is set apart by his alien blood.
He is also a traitor.

Lusting for power, he planned a coup, but it failed, and now he is on the run, searching for a band of Rogues with hopes they will shelter him and help with his plans for revenge.

Tam fears her alien blood -
of what it makes her.

Away from her home in the mountains, she now lives in the city and feels even more alone, especially with her alien abilities. Her uncle is determined to use her to access the fabled portal and its secrets. Perhaps even the return of the aliens themselves.

Marcalan cannot have alien blood -
but he does.

Haunted by this knowledge, he learned early on to hide his secret lest he bring shame on his family - on his mother.
And now he has a new secret: he has fallen in love with his Thane's niece. Unable to stop his heart, he can do only one thing, even though it means losing her. But will he also lose his life?
Available in print at:
And in e-book:
Teldheri Map
Pronunciation Guide

Endorsements
"This is an excellent book indeed. The characters are soundly crafted, and I soon found myself pulling for the protagonists and roundly cursing the villains. The society is complex and intriguing; the action scenes are detailed and well described. I look forward to reading the rest of this fine series."
- P.M. Griffin
"Children of the Enaisi has a beautiful high concept with a mysterious past of lost technology and ancient secrets. A fresh new take on Rangers that fans of classic pulp fantasy will love."
- Jon Del Arroz

Thanks to:
Dr. Jonathan Crofts - My Very Own Physicist™ who has patiently waded through my questions and tried valiantly to keep me from breaking the laws of physics. Without him, the technology of this world would be much diminished, although to be honest, his brain would probably be in a much better state if he didnít have my stories twisting his mind into knots.
Christy Shaffer who designed the cover!