Deuces Wild: Beginners' Luck
by L. S. King
the first book of the Deuces Wild series
"In DEUCES WILD, L. S. King gives us a fast-moving adventure, told with wit and grace, and more than a dose of humor."
- Mike Resnick, award-winning SF author
With gangsters hot on their heels, a bereaved cowboy from a pioneer planet and a cynical off-world maverick are forced to work together for their own survival.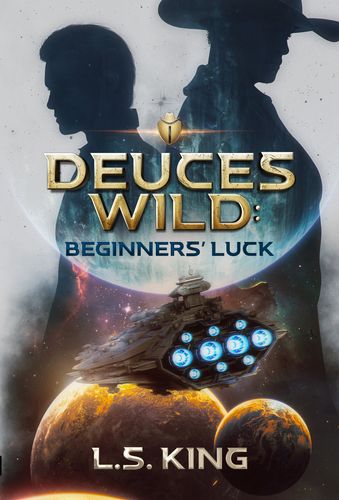 All Slap ever wanted was his ranch and family.
The gangster Lyssel destroyed all that, leaving only charred remains.

Tristan wanted nothing—
He had no expectations from life and trusted no one, surviving by his wits, his sole amusement taunting his enemies—like Lyssel.

When the bereaved cowboy and space rogue meet, they discover they are hunted by this common enemy. Forced to work with each other against the gangster and his mob, the duo must try to escape the planet.

But can two total opposites put their differences aside long enough to stay alive?
Available in print at:
And in e-book:
"Boring Ol' Bertha" an audio chapter from Deuces Wild: Beginners' Luck

There is something intriguing about the prospect of throwing two different temperaments together and watching the sparks fly. Especially when one party is a rigorously meticulous death-dealer, and the other is a happy-go-lucky life-giver.
In Deuces Wild: Beginners' Luck, we get to see the beginning of a classic, literary friendship. Two diametrically opposed personalities work together to forge their uneasy bond, thrown together by cruelty, circumstance, and sealed by something as old-school as "honor."
Author L. S. King gives us a series which combines the best Western vibe of Butch and Sundance with the space-faring vigor of Joss Whedon's Firefly. This is a new series whose elements feel familiar, but whose treatment is entirely fresh.
Johne Cook
Editor, Ray Gun Revival magazine
This book first appeared as a serialized novel in Ray Gun Revival magazine.

Cover designed by MiblArt

Deuces Wild is dedicated to the memory of my best friend; my inspiration for an enduring friendship...
http://loriendil.com/Starsky/