Deuces Wild: Raising the Stakes
by L. S. King
the third book of the Deuces Wild series
"In DEUCES WILD, L. S. King gives us a fast-moving adventure, told with wit and grace, and more than a dose of humor."
- Mike Resnick, award-winning SF author
Slap and Tristan get caught in the middle of a war between a galactic government and planetary gods, plus Tristan's past catches up with him in more ways than one.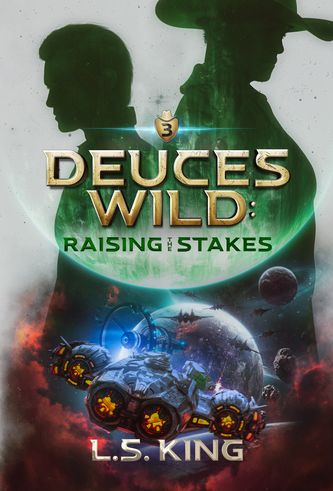 Slap raised his head, his expression haunted. "What have we gotten ourselves into?"
Tristan felt as drained as Slap looked. "A war. And it seems this war has gotten the attention of gods."
Who are these beings that protect certain planets?
Non-corporeal aliens or something more?
Are they...gods?

The Confederation is bent on expansion—
The rest of the galaxy calls it conquest.

And the planetary gods are fighting back.

Slap and Tristan are not only caught in the middle of this war, but old enemies still dog Tristan's trail, plotting his demise along with crooked cops, space pirates, and local thugs.

As if that's not enough trouble, a gorgeous, gun-toting old friend arrives, and she causes distraction at the worst possible time.

Can Slap and Tristan navigate all the danger and succeed in their mission to stop the Confeds?
Available in print:
And in e-book:

Many thanks to James King and Jim Green for attempting to keep me from breaking too many physics rules outright while still keeping my stories (and heroes) intact. And to P. A. Piatt for his invaluable input!
Anything technically or scientifically Not Right in my stories is due to my own fallibility and misunderstanding.

Cover designed by MiblArt

Deuces Wild is dedicated to the memory of my best friend; my inspiration for an enduring friendship...
http://loriendil.com/Starsky/