Deuces Wild: Stacking the Deck
by L. S. King
the second book of the Deuces Wild series
"It's fast-paced, fun, and well-written. These are characters you can care about... you probably won't put it down until you finish."
- Lou Antonelli, award-winning SF author
"In DEUCES WILD, L. S. King gives us a fast-moving adventure, told with wit and grace, and more than a dose of humor."
- Mike Resnick, award-winning SF author
Goons from a corrupt galatic government, a mobster out for Tristan's blood, a mad engineer, a spoiled brat, and ghosts from the past all threaten Slap and Tristan.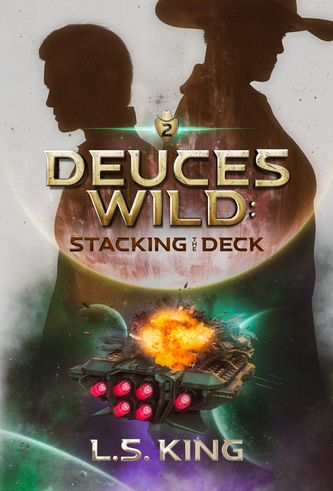 Tristan is not some hero...
Or a legitimate business man.

But his naïve partner, Slap, seems determined to cast him in those roles. To complicate matters, Slap takes a contract to deliver supplies to settlers on a pioneer world, not realizing it would involve running a planetary blockade.

Galactic mobsters out for revenge...
Corrupt government agents on a deadly mission...

Their supply job runs afoul of Tristan's past, and they end up caught between several different groups of adversaries out for his blood.

Can they possibly outwit and outrun all the factions determined to destroy them?
Available in print at:
And in e-book:

Endorsements
"It's fast-paced, fun, and well-written. These are characters you can care about with the problems and complications all humans face in our everyday struggles. Society may change in the future but human nature doesn't.
This is a space setting that feels lived in. It's a plausible future setting, a frontier-like environment where people try to make a living, solve problems, and just get by - a very humanistic literature.
The narrative flows and takes you quickly along. The characters are well-rounded, believable and credible. The dialogue is snappy and authentic.
Make sure you don't have anything on your schedule the day you start reading it - you probably won't put it down until you finish."
- Lou Antonelli
"Deuces Wild: Stacking the Deck is a fun follow-up to Deuces Wild: Beginner's Luck. We learn more about the reticent Tristan, some of it embarrassing to him but amusing to readers, as we follow him and Slap and Company as they once more encounter the Confeds and sundry enemies, and appeal to allies to bring about an unexpected, satisfying twist in the tale. Recommended reading to all lovers of space opera, science fiction, and unlikely buddies saving the universe."
- Keanan Brand
"In DEUCES WILD, L. S. King gives us a fast-moving adventure, told with wit and grace, and more than a dose of humor. "
- Mike Resnick

Cover designed by MiblArt

Deuces Wild is dedicated to the memory of my best friend; my inspiration for an enduring friendship...
http://loriendil.com/Starsky/