Deuces Wild: Stacking the Deck
by L. S. King
the second book of the Deuces Wild series
"It's fast-paced, fun, and well-written. These are characters you can care about... you probably won't put it down until you finish."
- Lou Antonelli, award-winning SF author
"In DEUCES WILD, L. S. King gives us a fast-moving adventure, told with wit and grace, and more than a dose of humor."
- Mike Resnick, award-winning SF author
Slap and Tristan anticipate the dull calm of routine cargo runs, but their plans are thwarted by goons from a corrupt government, a mobster out for Tristan's blood, a mad engineer, a spoiled brat, and ghosts from Tristan's past.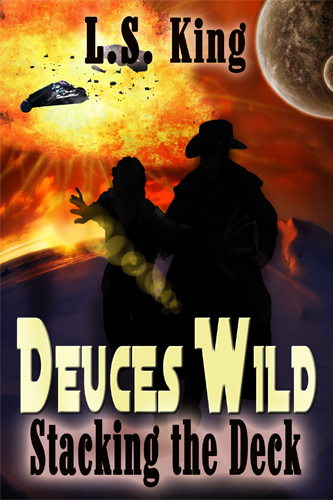 With their enemy, the Mordas, destroyed, Slap and Tristan decide to use their cargo ship to do honest business. Joined by their old engineering friend Carter and picking up a sales rep as a passenger, they quickly find the Confederation still unhealthily interested in them. A dangerous enemy from Tristan's past joins forces with the Confeds while Tristan is forced to take on a job that just might get them all killed.
Available in print at:
And in e-book:

Endorsements
"It's fast-paced, fun, and well-written. These are characters you can care about with the problems and complications all humans face in our everyday struggles. Society may change in the future but human nature doesn't.
This is a space setting that feels lived in. It's a plausible future setting, a frontier-like environment where people try to make a living, solve problems, and just get by - a very humanistic literature.
The narrative flows and takes you quickly along. The characters are well-rounded, believable and credible. The dialogue is snappy and authentic.
Make sure you don't have anything on your schedule the day you start reading it - you probably won't put it down until you finish."
- Lou Antonelli
"Deuces Wild: Stacking the Deck is a fun follow-up to Deuces Wild: Beginner's Luck. We learn more about the reticent Tristan, some of it embarrassing to him but amusing to readers, as we follow him and Slap and Company as they once more encounter the Confeds and sundry enemies, and appeal to allies to bring about an unexpected, satisfying twist in the tale. Recommended reading to all lovers of space opera, science fiction, and unlikely buddies saving the universe."
- Keanan Brand
"In DEUCES WILD, L. S. King gives us a fast-moving adventure, told with wit and grace, and more than a dose of humor. "
- Mike Resnick

Many thanks to Dr. Jonathan Crofts and James King for their mind-numbing conversations with each other and me to keep me from breaking too many physics rules outright while still keeping my stories (and heroes) intact.
Anything technically or scientifically Not Right in my stories is due to my own fallibility and misunderstanding.
Thanks to:
Shannon McNear, Johne Cook, Talibah Chikwendu, Elizabeth Easter, Troy McNear, Jennifer Easter
And last, but definitely not least, thanks to C. K. Volnek for the fantastic cover art!

Deuces Wild is dedicated to the memory of my best friend; my inspiration for an enduring friendship...
http://loriendil.com/Starsky/